Plat Tsukiji
Plat Tsukiji's mission is to help you enjoy your shopping experience
at the Tsukiji Outer Market.
■Notice■
Please keep wearing a face mask and disinfect your hands frequently.
Please maintain a distance between you and others.
We appreciate your kind understanding and cooperation.

Each shop at the Tsukiji Outer Market has different business hours.
Please check the shop hours before you visit the market.
Facility overview
Information counter

The information counter distributes maps of the Tsukiji Outer Market and provides information about sightseeing and transportation in the surrounding area.
English-speaking staff are available to assist visitors to Japan.

Area maps

You can freely view maps of the Tsukiji area and subway routes.

ATM and currency exchange machine

There is a Seven Bank ATM and a currency exchange machine in the facility.

Tax refund counter

The tax refund counter assists customers who purchased items from shops that offer tax-free shopping.
> About tax-exemption procedures and delivery services

Coin-operated lockers

Large, medium, and small coin-operated lockers are available to store everything from hand-carry items to bulky travel bags.
There is also one more location in the same building.

Smoking area

It is the only smoking area in Tsukiji Outer Market and is equipped with air conditioning.
Map & business hours
Plat Tsukiji
Weekdays and Saturday: 8:00 a.m. to 2:00 p.m.
Sunday, national holidays, and market closure days: 10:00 a.m. to 2:00 p.m.
Closed: Year-end and New Year holidays
Public lounge
Weekdays and Saturday: 6:00 a.m. to 4:00 p.m.
Sunday, national holidays, and market closure days: 7:00 a.m. to 4:00 p.m.
Closed: Year-end and New Year holidays
Convenient guide to services
Products

This guide introduces some of the products you can find at Tsukiji.

Guide map

You can download a convenient guide map for exploring the Tsukiji Outer Market.
Three ways to enjoy the Tsukiji Outer Market
The Tsukiji Outer Market is a gathering place for food professionals.
Not only can you buy ingredients sourced with a professional's eye,
you can also enjoy a meal, learn how to cut fish,
and expand your appreciation of food through a variety of experiences.
Original merchandise for sale
Commemorate your visit to Tsukiji with original merchandise—you will find everything from handy items you can use while shopping at Tsukiji to three-dimensional postcards that capture the atmosphere of Tsukiji.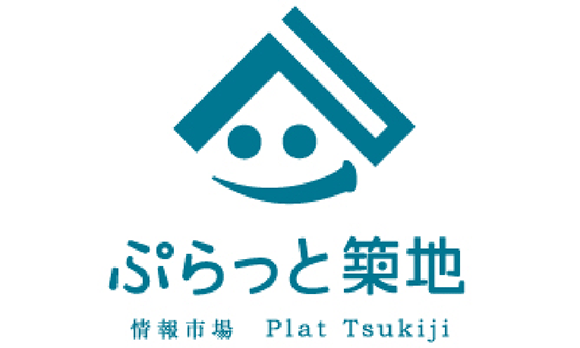 About the name and logo

The name "Plat Tsukiji" was decided through a public call for suggestions. "Plat" has two meanings—a "base (platform) for disseminating information" and "visiting Tsukiji casually ("puratto" in Japanese)." The logo that was chosen combines the "P" from "Plat" with the first Japanese character for "tsu" (ツ) in Tsukiji in the style of a traditional Japanese family crest. It symbolizes history and familiarity.
Facebook

Instagram
Must-Read!
Eight tips on
manners at Tsukijito fully enjoy the Tsukiji
Outer Market
Professional buyers take
priority in the morning!

Priority should be given to professional buyers until 9:00 a.m. If you see people going around the market and purchasing goods, try not to get in their way.
Stay inside the eatery or
in front of the store
when eating!

Wandering around while eating can bother passerby. Please eat inside the eatery or in a space designated for eating.
Leave your luggage behind!

Large bags can obstruct the flow of people—please store them in a coin-operated locker when exploring the market. Strollers can be stored at the Plat Tsukiji information center for temporary safekeeping (500 yen per stroller).
Move in small numbers!

The Tsukiji Outer Market has narrow streets and small shops. Please refrain from moving around in large groups. Hold your child's hand when walking.
Ask before taking pictures!

Ask the shopkeeper for permission before taking photos of a shop. Some shops have signs that prohibit photography.
Don't touch the foods!

The foods in the market are valuable products for sale. Touching them or poking them with your fingers will lower their commercial value. Please do not touch these products with your hands, especially raw foods. If you need to check something, ask the shopkeeper.
Don't try to bargain!

Carefully-selected products are sold at wholesale prices. Bargaining over the price is not customary at Tsukiji.
Smoke only
in designated areas!

Smoking is permitted only in designated areas. Do not smoke while walking around or litter cigarette butts.