How to enjoy the Tsukiji Outer Market
How to enjoy the Tsukiji Outer Market
Three ways to enjoy the Tsukiji Outer Market
The Tsukiji Outer Market is a gathering place for food professionals.
Not only can you buy ingredients sourced with a professional's eye,
you can also enjoy a meal, learn how to cut fish,
and expand your appreciation of food through a variety of experiences.
Enjoy
shopping
At the Tsukiji Outer Market,
you will find all kinds of ingredients and utensils for sale.
Besides simply enjoying shopping,
one of the advantages of the Tsukiji Outer Market is that
you can ask professionals for their expert advice on
the ingredients and utensils they offer.
Search for shops in the Tsukiji Outer Market
Search by category
Fresh Seafood & Processed Fish

Dried Foods

Processed Foods

Tsukiji Uogashi

Kitchenware

Other

information centre
Enjoy
eating
Another draw of the Tsukiji Outer Market is that
you can enjoy meals made with market-fresh ingredients.
There are a variety of eateries offering everything from seafood,
such as sushi and sashimi rice bowls, for example, to ramen and light meals.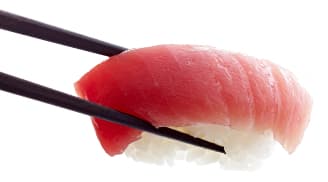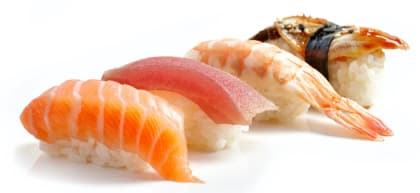 Tsukiji is
the place for sushi!
Learn more about sushi
Sushi—a world-renowned food from Japan
Do you know the proper way to eat sushi? How about what kinds of sushi toppings are available?
The Tokyo Sushi Environmental Health Association has compiled useful information on the history of sushi and sushi etiquette (how to eat sushi deliciously).
Feel free to utilize this information to make the most of your sushi-eating experience.
Search for eateries in the Tsukiji Outer Market
Search for restaurants
Enjoy the
experience
Here, we introduce a basic plan for exploring the Tsukiji Outer Market.
The best time to visit the market is in the morning.
Unforgettable experiences await you on your walk through this bustling market.
THE BEST OF TSUKIJI: Short Itinerary
9:00

Plat Tsukiji

Pick up a map at Plat Tsukiji.
Ask about places where you can shop, eat, and experience Tsukiji!

9:15

Visit Namiyoke Inari Shrine

A big lion head is worth seeing!

9:30

Strolling & Shopping

At Tsukiji, you will find ingredients and utensils essential to Japanese cuisine.
Even the narrowest of streets are lined with shops, so be sure to keep a map handy as you explore.

Popular products

Cooking utensils

Knives

Dried bonito flakes

Tea

Tsukudani
(Japanese preserved food)

Tamagoyaki
(pan fried rolled egg)

Sashimi

Fruits

11:00

Lunch

Eating lunch slightly early is recommended. Many eateries have menus in foreign languages such as English and Chinese.

Typical lunches in Tsukiji

Sashimi Rice Bowl

Sushi

Set meals

12:00

Finish exploring the Tsukiji Outer Market!
Must-Read!
Eight tips on
manners at Tsukijito fully enjoy the Tsukiji
Outer Market
Professional buyers take
priority in the morning!

Priority should be given to professional buyers until 9:00 a.m. If you see people going around the market and purchasing goods, try not to get in their way.
Stay inside the eatery or
in front of the store
when eating!

Wandering around while eating can bother passerby. Please eat inside the eatery or in a space designated for eating.
Leave your luggage behind!

Large bags can obstruct the flow of people—please store them in a coin-operated locker when exploring the market. Strollers can be stored at the Plat Tsukiji information center for temporary safekeeping (500 yen per stroller).
Move in small numbers!

The Tsukiji Outer Market has narrow streets and small shops. Please refrain from moving around in large groups. Hold your child's hand when walking.
Ask before taking pictures!

Ask the shopkeeper for permission before taking photos of a shop. Some shops have signs that prohibit photography.
Don't touch the foods!

The foods in the market are valuable products for sale. Touching them or poking them with your fingers will lower their commercial value. Please do not touch these products with your hands, especially raw foods. If you need to check something, ask the shopkeeper.
Don't try to bargain!

Carefully-selected products are sold at wholesale prices. Bargaining over the price is not customary at Tsukiji.
Smoke only
in designated areas!

Smoking is permitted only in designated areas. Do not smoke while walking around or litter cigarette butts.
If you need assistance at the Tsukiji Outer Market,
visit Plat Tsukiji (the Tsukiji Outer Market information center)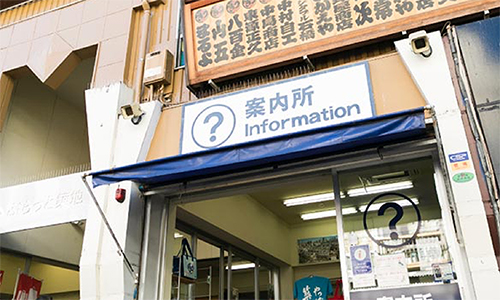 Plat Tsukiji's mission is to help you enjoy your shopping experience at the Tsukiji Outer Market.
Whether you are looking for a specific shop, need to find a certain ingredient, or want souvenir ideas,
Plat Tsukiji is here to assist you with various requests.